'Ladder of Awesomeness' - Avinash Kaushik
Avinash Kaushik is one of the most brilliant web analytics / marketing experts of today. He has philosophized about many web marketing strategies, but this seems to hit the mark and is easily understandable. How far up the 'Ladder of Awesomeness' does your web strategy go?

(Notes in red pertain to RWD clients!)

1. The very first thing you want to do is create a good website. Invest a lot in Search Engine Optimization. You will have great content, in a good experience, and focus on getting free traffic. - We ALL have done this step!
2. Second, create the world's greatest mobile experience. - About 85%+ of RWD clients now have mobile-friendly web sites!
3. Thirdly, start investing in your email marketing strategy for extending relationships, and your paid search strategy for brand terms. - Some of you are doing monthly, targeted newsletters. A few are also doing targeted PPC campaigns.
4. Step four is focusing on expanding your reach to new relevant audiences. The cool part about display advertising is that we can build our brands cost effectively, introduce our products to a new audience. - Increasing sales both online and offline w/ Google Display Network (PDF info).
5. Focus on creating micro-outcomes on our website. - Drive visitors to your most important parts of your site ... 'Contact Us' forms, 'Call Us', etc. - Some sites have 'Contact Us' forms, or 'Request an Appt' forms. Some sites do not have these forms, but simply drive people to call ... That's OK.
6. Start investing in creating the world's most beautiful, functional, brand-enhancing, customer joy inducing website! Post your content on Facebook ... Make those creative YouTube videos, etc. - Most of us have Facebook & You Tube pages for your businesses, but are we utilizing them to their max.? I would say, 'No'. What are your competitors doing on Facebook? Have you created some videos for your business? They do not need to be expensive, just done.

... The world's greatest social media strategy: 1. Entertain Me 2. Inform Me. 3. Provide Utility. Nothing else works.
---

---

Google's Checklist for Mobile Websites!
Google has now given us some direction for smartphone-optimized sites, this checklist provides a framework for making improvements or checking to see if your site has been developed properly. (Notes in red are if RWD mobile client sites are following Google's suggestions)
1. Google Analytics installed on both desktop and mobile sites - Always Done!
2. Provide device-appropriate functionality, including no Flash. Make sure the desktop version is available on mobile site. A link to 'Full Site' is always provided for each page - Done for every page!
3. Speed up slow loading pages via Site Speed Suggestions or Site Speed Page Timings. Use fewer images than the desktop version. - Done!
4. Check that redirects work as intended, including broken links by referencing Webmaster Tools Crawl Errors - Done w/ Zenu link checking tool!
5. Create and upload the mobile sitemap.xml ( www.YourDomain.com/mobile/sitemap.xml ) to Google Webmaster Tools.- Done!
6. Implement search-engine best practices given your mobile implementation. Make sure more popular pages are included in navigation. Follow usability best practices, such as to use legible font sizes. - Done and tested on all platforms!
7. Study logged in behavior (via Google Analytics) for the same user across different devices, especially in the path to conversions. Investigate mobile search queries in Webmaster Tools - Done and provided in all Monthly Reports!
Full Google article -> here!
---

---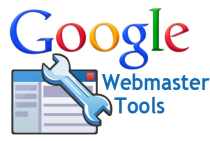 What is Google's Webmaster Tools
Google Webmaster Tools provides site owners with data, tools and diagnostics for a healthy, Google-friendly website. It is a FREE tool and ALL of RWD's clients have been connected to WMT since their inception. Google let's me know what items can be done to make your site perform better in the search engines. Here are just a few items that WMT provides:
1. Crawl Errors - If a page of your site disappears or is removed, causing a broken link, or an inbound link is pointing to a non-exist ant page, WMT will show this as a 'crawl error'.

2. Search Queries - WMT gives me a list of your most popular search queries that bring people to your site and where you are positioned on Google. These 'Search Query Reports' are provided in your monthly reports.

3. HTML Improvements - Google likes original content and it will know if you are not taking the time to create new pages with new content, new meta descriptions and keywords. In this section of WMT, any pages which have duplicate meta data will be listed.

4. Links to your site - Quality back links to your website will help your website appear higher on search engines, so it is good to look at WMT to see how your progress is tracking, and to make a plan to get more quality links.

5. Sitemaps - As most sites have a HTML sitemap (www.YourDomain.com/sitemap.htm), Google also likes us to use a 'sitemap.xml' (www.YourDomain.com/sitemap.xml) so that their spiders can crawl your site faster. WMT shows the status of the latest XML crawl.
---

---

SEO in 2014 - What's Next?
#1 – Everything Goes Inbound - More emphasis on inbound links! For businesses, all of those digital marketing channels such as organic search optimization, pay per click campaigns; email marketing, content marketing, and social media will all work as one.
#2 – Mobile is big. It'll get bigger - Mobile is going to be the most critical factor in search. Computers will no longer be as important as they were. The delight we used to get from 1024 x 768 screens is fading away as we take those screens for granted. Google's research studies point out that over 61% of mobile searchers who land on a non mobile-optimized site will immediately leave the site.
#3 – Social will go mainstream - Apart from the usual benefits of social media for businesses, social media enables a core framework for brands and businesses to earn inbound links. According to Nielsen Research, more than 92% of people trust recommendations from friends and family. Social media is getting close to translate that reality into clicks, links, and cash.
#4 – Content is now premium - Not only is content just a premium asset, but it's also an asset actually drives profits and engagement up the wall.You no longer create content for SEO. You don't even create content if you lack the will, passion, and capability to do so. You'd only create content to provide value.
#5 – All links are earned assets - See #1 above - Riding on the premium content wave is another important aspect of search: links. Today, all links are earned and not purchased. Premium content would generate links organically.
#6 – Everything about the website will now matter - Earlier, you could put up an ugly looking site, stuff keywords in, and then hope to rank on search listings. Today, even if you did everything right, you might still not make it. It just got that hard. SEO was always been an important way to get users to a website.
#7 – Data will save your life - Understanding your reports.
#8 – Search isn't dead; it just changed - SEO, clearly, is evolving as it always has been. It'll only continue to do so. Search optimizing is still a very important part of digital marketing. It's just that all the fanciness, jargon, and overt-technicality of on-page or off-page optimization techniques won't stand a chance against Google's relentless policing of the web.
---

---
If you have not done so, please take this short 1-2 minute survey about RWD -