Is It Time for a Redesign? What Things Do We Need to Consider?
How old is your web site? 3,4,5+ years? If so, it may be time for a new / fresh look and feel to your site. You may not need to change much of your content, unless it TOO is outdated.

1. Let's make it more user-friendly or customer-friendly.
2. Is your site customer focused?
2. In a redesign, keeping your rankings is a high priority.
3. Are there functions and features of your old design that are no longer used?
4. Does your website take a long time to load? The trend now is to make sites load faster and not download so much information.
5. Are parts of your site not functioning properly?
6. What about your navigation? Do you need new sections? Delete pages that are unnecessary?
7. Is your old site not generating leads for your business? Let's discuss / update your web goals.
8. Has your site evolved with your business growth? What about your competition? What have they been up to?

Your customers' first impression is most likely your web site. How important are first impressions? Let's keep your site current, workable, and readable. SEO techniques are constantly changing, so let's market your site armed with current strategies.
---

---

www.GetListed.org is a new site which can scan many of the top 'Local' listings and inform you which directories have found your business. It also shows what contact information is present, in case you need to fix an address, phone#, etc. A few of the major 'Local' listing web sites include Google+/Places, Facebook, SuperPages, InfoGroup, CitySearch, Acxiom, Yelp, Best of the Web (BOTW), HotFrog, Nokia, FourSquare, YP, Factual, eLocal, etc.

I have created a 'Dashboard' of all of my regular / maintenance clients and will be spending March, focusing on these listings! If you receive an email from ANY of these web sites (listed above) PLEASE follow their directions - These are legitimate verification methods.
---

---

This past Saturday (Feb. 22, 2014) I attended the TEDxWakeForestU event at Wait Chapel. As other TED events throughout the country, this was filled with lively, motivated, leaders, motivators, dreamers and doers in NC. "Daring to Endeavor" encompassed the spirit and drive of this year's speakers.

Vic Howie founded the US National Whitewater Center in Charlotte, North Carolina. Robin Emmons is the Founder & Executive Director of Sow Much Good, a non-profit that focuses on urban farming initiatives in underserved communities. She was named a CNN Hero in 2013. Ben Kamens is the Lead Developer at Khan Academy, a pioneering education non-profit that aims to provide a 'a free world-class education for anyone anywhere'. Greg Merril is the Founder and CEO of Brain Sentry, a company that builds helmet-mounted sensors to detect concussions. Dr. Doris Páez is the Executive Director of Forsyth Futures, a non-profit dedicated to expanding community knowledge and improving the quality of life for people in Forsyth County. Dr. Eric Tomlinson is the Chief Innovation Officer of Wake Forest Baptist Medical Center and the NC BioTech Center.

TED stands for Technology, Entertainment, Design -- three broad subject areas that are, collectively, shaping our future. TED is a platform for ideas worth spreading. Started in 1984 as a conference where technology, entertainment and design converged, TED today shares ideas from a broad spectrum — from science to business to global issues — in more than 100 languages. Meanwhile, independent TEDx events help share ideas in communities around the world.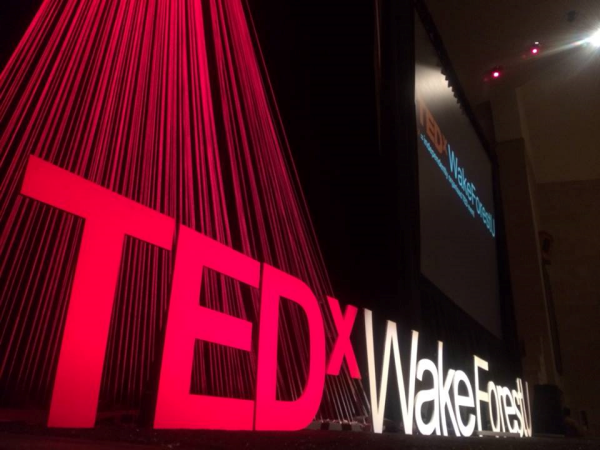 <!!!!!!!!!!!!!!!!!!!!!!!!!!!!!!!!!!>