Not! Mobile Friendly Icon in Google Search Results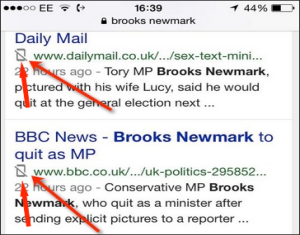 Google has just begun testing new icons in their mobile search results, which are meant to tell your potential site visitors if your website is mobile friendly - or NOT... Google isn't making a statement about their plans to roll these icons out officially, but this is their normal process when rolling out these types of ranking factors. In a year or so the same thing will be happening with HTTPS sites.
That being said, we expect to see more of these icons popping up sooner rather than later. Especially since Google has said on a number of occasions (most recently at SE Roundtable) that responsive design will be a ranking factor in the near future...if it isn't already.
"Mobile-friendly websites provide a much better user experience for the mobile users. According to our studies, 61% of users are unlikely to return to a mobile site that they had trouble accessing from their phone. That includes sites that use fonts which are illegible on mobile, or sites where users have to zoom in or pan around excessively.

Mobile is a very important area; the mobile device penetration is over 50% in the USA and most users use their device for browsing websites. Because at Google we are aiming to provide a great user experience on any device, we're making a big push to ensure the search results we deliver reflect this principle. We want users to be able to enjoy the web wherever they are."
Google Penguin Update
Just this past week, Google initiated another 'Penguin Update'. This is most likely a tweak to the Penguin update from September, but it is too early to pass judgement.
Web Reviews - What Are these? How Do We Get Them?(*)
Have you seen these

stars show up on Google search results? They are Google Reviews that people are placing on your business Google+ page. As you can see below in my email signature, reviews are also an important aspect of YELP, Angie's Lists, Bing and local YellowPages ... but the most effective are reviews placed on Google+!





For Google Reviews, you need to have a Google+ business page ( Remember the Google postcard? Verification PIN?). Reviews can only be written on Google+ Local business pages. Take some time to read and understand Google's guidelines for reviews. Customers must also have Google+ accounts in order to write a review. Customers need to post the reviews themselves, through their Google+ accounts. Customers can leave ratings without actually writing a review. The rating is just the

"stars" without the text of a review. At least in terms of rankings, the number of reviews you have seems to matter more than the quality of those reviews.
Search and Review your OWN reviews - Do a search for your own company and see the sites that come up with reviews. They may be found on Yelp, Angie's List, City Search, the BBB, or specific field related sites such as ... HealthGrades.com or even Vitals.com . Be aware of what reviews are out there, POSITIVE & NEGATIVE. Most of these sites allow you to interact with these people; Respond appropriately to the negative reviews and THANK the people who create a positive review ... If you have the time ... MAKE the time ... It's your business reputation!
Best-practices for requesting reviews - Ask everyone for a review, not just your diehard, happiest customers. Point out as often as possible that you'd like your customers' honest feedback. Don't incentivize - Not only is it against the rules, but makes you look as though you're desperate. Your customers care. Not all of them, sure. But that's OK. Many will write a review if you ask and if you maybe give them basic instructions as to how.
Place a line on your email signature that guides people for reviews. Where have you seen this before???
* = Edited and improved upon from 9/13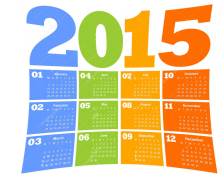 Editorial Calendar; Why Have One?
An editorial calendar is used by bloggers, publishers, businesses, and groups to organize and control publication of content across different media, including email newsletters, social media outlets and specifically for web site content. The primary purpose of editorial calendars is to control the publication of content to ensure REGULAR appearance of content that interests readers and advertisers.
Traditional print publishers have used editorial calendars in some form for centuries to manage the publication of books, magazines, and newspapers. The internet has dramatically increased the number of publishers who also need to organize content and ensure content is published at regular intervals.
Editorial calendars are used to define and control the process of creating content, from idea through writing and publication. An individual or small business might have this publishing process:
1. Brainstorm content ideas to publish and when to publish.
2. Write each piece of content based on the publication schedule.
3. Edit each piece of content.
4. Publish each piece of content on your site and / or your newsletter.
Let me help you create your own calendar for regular and timely subjects. These can be geared around your own targeted keywords / phrases or simply directed towards interesting subjects that your customers / patients may have some interest.