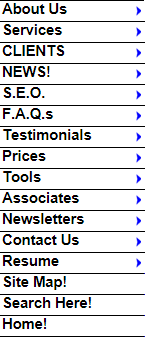 <!table width="125" border="0" cellspacing="0" cellpadding="1" height="20" background="seoforumback.gif"> <!tr> <!td> <!div align="center"> <!RWD SEO Forum> <!/div> <!/td> <!/tr> <!/table>



<!a href="http://www.richswebdesign.com/wordpress_blog/" target="_blank"><!img src="images/wordpressblog.gif" border="0" alt="WordPress Blog" align="middle" width="29" height="28"><!B><!font color="#ffffff"><!Blog>
Sign-Up for the
Monthly Newsletter!


Logo Designs by
<!a href="http://www.logomatrix.com/" target="_blank">

<!/a>





Great E-Mail Marketing Tool!
"How to Make a Winning Home Page" - Excerpts from

One of the most common questions I get from my clients is, "What should I put on my home page? Where do I begin?" Whether you are starting a new web site or redesigning your existing one, these are important questions to ask. If you don't get the answers right, you might as well not even have a web site.

The Purpose of a Home Page
The home page serves many functions, and they all must work together seamlessly. First of all, it must be designed to rank well in the search engines so that people who don't already know you can find you. Second, it's an introduction to your business and an invitation to new customers and clients. Third, it must have a clear and intuitive navigation system so that a visitor can immediately know the scope of your site and easily move around in it. This topic won't be covered here, but you can read more about this in my article about Designing the Perfect Web Menu (http://www.zmoon.com/articles/menu.html). Fourth, it must load quickly, even for people using a dialup modem for their internet access. And all this must be contained in an attractive package!

The Two Main Factors that Will Improve Your Ranking
When ranking sites, the search engines consider two main factors. How many times does the search phrase occur on your page, and how many other quality sites link to your page? The first factor indicates how closely your page matches what the searcher is looking for. The second factor indicates the overall quality of your site, since other sites won't send their customers to you unless you offer excellent content. How to cultivate a strong network of sites linking to your site is beyond the scope of this article, but will be covered in another edition.
Create Your Keywords List ... Place Your Keywords on the Page
The Next Step
Now that I've optimized my home page, I'll use similar tactics on each additional page. These will still feature the appropriate keywords in the title, headlines and text, but the content can move a bit away from the benefits and more toward solid information. I hooked my visitor on the home page, so now I need to reel him in with helpful free information, testimonials from satisfied neighbors, and a bit about my background and experience.

Conclusion
Your home page is arguably the most important in your site. First it has to be found by visitors using the search engines. Then it must show them enough personal benefits that they will click a link to go further into your site instead of clicking the back button. Follow the guidelines I've presented here and you should be off to a good start. Good luck!

Electronic attack slows Internet - 'SQL' worm like 'Code Red,' but not as serious

UPDATED 1/27 - Software developers warned that Internet users are likely to see many more disruptions as the Internet's reach and consumers' dependance on it continue growing. So who is to blame? Well, the clearest target were the hackers themselves -- who unleashed the worm on the world's computers. But Microsoft's critics also pointed fingers at the software giant, urging that the company take greater steps to increase software security.

WASHINGTON (CNN) -- A fast-moving computer worm slowed down Internet access Saturday for about 22,000 servers, according to the Internet security firm Symantec. Businesses, rather than home users, would be affected by the worm, which was similar but not as serious as the "Code Red" worm. Code Red swept through hundreds of thousands of computers in a single day in July 2001.

A computer worm is a program that reproduces by copying itself onto other machines, which then seek out other vulnerable computers. SQL worm "breaks into the server and tries to spread." "It really generates a lot of network traffic," he said. "It's really just going to slow down Internet performance."

Internet traffic broadly affected by electronic attack - From
UPDATED 1/27 - NEW YORK — The fast-spreading computer worm dubbed Slammer that caused a global traffic jam on the Internet Saturday is unlikely to create major disruptions this week, but it may spark fresh debate on computer network security.

The worm did cause limited network disruptions Monday as employees returned to work. The latest attacks, however, were nowhere near in intensity that of Saturday's outbreak, which had congested the network for countless Internet users and even disabled Bank of America cash machines. ....
WASHINGTON (AP) — Traffic on the Internet slowed dramatically for hours early Saturday, the effects of a fast-spreading, virus-like infection that overwhelmed the world's digital pipelines and broadly interfered with Web browsing and delivery of e-mail. Sites monitoring the health of the Internet reported significant slowdowns globally. Experts said the electronic attack bore remarkable similarities to the "Code Red" virus during the summer of 2001 which also ground online traffic to a halt.

"It's not debilitating," said Howard Schmidt, President Bush's No. 2 cyber-security adviser. "Everybody seems to be getting it under control." Schmidt said the FBI's National Infrastructure Protection Center and private experts at the CERT Coordination Center were monitoring the attack and offering technical advice to computer administrators on how to protect against it. Most home users did not need to take any protective measures.

During the "Code Red" attack in July 2001, about 300,000 mostly corporate server computers were infected and programmed to launch a simultaneous attack against the Web site for the White House, which U.S. officials were able to defend successfully. Unlike that episode, the malicious software used in this latest attack did not appear to do anything other than try to spread its own infection, experts said.
...
The FBI was searching for the origin of the attack, which experts variously dubbed "sapphire," "slammer" or "SQ hell." Some security researchers noted that software unleashed in Saturday's attack bore striking resemblance to blueprints for computer code published weeks ago on a Chinese hacking Web site by a virus author known as "Lion." An FBI spokesman said he couldn't confirm that.

Tracing the attack, which appeared to strike first in the United States, might be impossible because it used a transmission method that made it unusually easy to falsify its digital trail, experts said. Mysterious scans that could have been a precursor to Saturday's attack have been detected by Internet sensors since last year, searching out vulnerable computers.

What exactly is Froogle?
Froogle is a new service from Google that makes it easy to find information about products for sale online. By focusing entirely on product search, Froogle applies the power of Google's search technology to a very specific task: locating stores that sell the item you want to find and pointing you directly to the place where you can make a purchase. Type in the name of the item you want to find and click on "Froogle Search." Almost instantly, you'll see photos of relevant products and links to the stores that sell them. Or you may choose to browse through the merchandise categories listed on Froogle's home page until you find exactly the item you want to buy.

As with all other Google search results, Froogle ranks store sites based only on their relevance to the search terms you've entered. Google does not accept payment for placement within our actual search results, and advertising that appears to the right of Froogle search results is always clearly identified with the label "Sponsored Links."
"How Search Engines Work" - Excerpts from

When most people talk about Internet search engines, they really mean World Wide Web search engines. Before the Web became the most visible part of the Internet, there were already search engines in place to help people find information on the Net...

Before a search engine can tell you where a file or document is, it must be found. To find information on the hundreds of millions of Web pages that exist, a search engine employs special software robots, called spiders, to build lists of the words found on Web sites. When a spider is building its lists, the process is called Web crawling... How does any spider start its travels over the Web? The usual starting points are lists of heavily used servers and very popular pages. The spider will begin with a popular site, indexing the words on its pages and following every link found within the site. In this way, the spidering system quickly begins to travel, spreading out across the most widely used portions of the Web...

Google.com began as an academic search engine. In the paper that describes how the system was built, Sergey Brin and Lawrence Page give an example of how quickly their spiders can work. They built their initial system to use multiple spiders, usually three at one time. Each spider could keep about 300 connections to Web pages open at a time. At its peak performance, using four spiders, their system could crawl over 100 pages per second, generating around 600 kilobytes of data each second...




When the Google spider looked at an HTML page, it took note of two things: - The words within the page & Where the words were found . Words occurring in the title, subtitles, meta tags and other positions of relative importance were noted for special consideration during a subsequent user search. The Google spider was built to index every significant word on a page, leaving out the articles "a," "an" and "the." Other spiders take different approaches...

Meta tags allow the owner of a page to specify key words and concepts under which the page will be indexed. This can be helpful, especially in cases in which the words on the page might have double or triple meanings -- the meta tags can guide the search engine in choosing which of the several possible meanings for these words is correct...

To make for more useful results, most search engines store more than just the word and URL. An engine might store the number of times that the word appears on a page. The engine might assign a weight to each entry, with increasing values assigned to words as they appear near the top of the document, in sub-headings, in links, in the meta tags or in the title of the page...




Searching for Sport - Search engines have become such an integral part of our lives that at least one organized game has evolved around this tool. In Googlewhacking, you type two words into the Google search engine in the hopes of receiving exactly one result -- a single Web page on which both of those words appear. This is a pure whack...

The searches defined by Boolean operators (AND, OR, +, -) are literal searches -- the engine looks for the words or phrases exactly as they are entered. This can be a problem when the entered words have multiple meanings. "Bed," for example, can be a place to sleep, a place where flowers are planted, the storage space of a truck or a place where fish lay their eggs...

Many groups are working to improve both results and performance of this type of search engine. Others have moved on to another area of research, called natural-language queries.

For the full article, read it here!
"Credibility and the Internet", by Douglas Gaines - From Raven's Net
The Internet is constantly being touted as the marketplace of the future, the key word here is future. Last year the Internet accounted only for 1% of all sales. Why? There are many reasons but the biggest one is trust or lack of. The same people that tell us how treat the Internet is (the news media) also hit us almost daily with credit card fraud, identity theft, hackers getting into everything, unfilled orders without recourse and the list goes on. On one hand the merchant is being told to get on this fantastic opportunity and at the same time all of the potential customer base is being told that the Internet is a wild and woolly dangerous place to go, that is, if they get burned there is nothing that can be done, there are no laws to protect them and for many cyberspace is an abstract thought instead if a real and tangible thing.

How do you overcome all of that, establish creditability and build trust?

Here are some tips to help you build that trust and improve your bottom line.

1) Start with a clean sharp site - We can help from concept to launch.

2) State years in business

3) Join and display on your site chamber of commerce, better business bureau, professional associations (very important)

4) Clearly display your guarantee and return policies (and honor them).

5) Be accessible by phone if possible. People don't like just e-mailing and they hate machines. People want people.

6) Extremely important: if you ask for payment by credit card make sure you go with a credit card processing company with (ssl) 128 encryption. This is for the protection of your customer. Make sure to make your customer aware that all their information is protected.

7) Let your customers know that you do not sell or rent out their names or address to any company for any reason.

8) 2 weeks after you ship your order send a thank you note- snail mail.
Website Defacers - the Graffiti Artists of the Internet? From

Greg Harvey January - 15 - 2003 When does a Website become art? Many of us have asked ourselves this question at some point, but to no avail: there is no definitive answer. A more effective way to approach this question might be to look at it from another angle. We could ask "What constitutes "art"?" and then apply our description to particular aspects of the Internet.

For me, "art" is any form of media that sets out to -- and achieves -- an emotional reaction or response. A good definition is found in the Encyclopaedia Britannica:

"The use of skill and imagination in the creation of aesthetic objects, environments, or experiences that can be shared with others."

Now, let's think about this in the offline environment. We have galleries and museums filled with "art". But in my opinion, street graffiti often meets the requirements of this definition more fully than most other "art" forms I can think of.

Graffiti in itself it is a controversial choice. But think about it: this is not only an extremely provocative medium – many people feel graffiti artists are criminals and not "artists" at all – but also that it draws very strong parallels with one area of online art that many of you may not have considered art before – Website defacing.

In fact, the link between graffiti and Website defacing represents one of the strongest parallels between 'real world' art and its online counterpart.

So How are Hackers "Artists"? - Think about what a graffiti artist creates: they use their chosen medium to convey a point that is often political, usually prominent, and can embody varying degrees of complexity. The graffiti artist hijacks walls next to railway lines, paints traffic bridges, tags government buildings -- and all for one purpose: to get their point across.

What I'm suggesting is that the motive, and even the result of a hacker's work is exactly the same. Let's look at that definition of art again, but instead of thinking about the local art gallery, let's think about Website defacers:

The use of skill –- the individual concerned had to hack a server, which obviously takes skill and imagination –- the creation of the message they intend to convey in the creation of aesthetic objects, environments, or experiences –- that can be shared with others –- around the globe!

See what I mean? The important point to bear in mind is that art doesn't have to be visually stunning. It just has to make you think.
January Search Engine News From www.searchengine-news.com

Google - unveiled their new beta product search project called Froogle. According to Google, Froogle is a product search engine that ranks store sites based on their relevance to the search terms you have entered. Regardless, this new development is already causing concern among internet merchants. But of course, that's par-for-the-course these days – when Google speaks, merchants listen. Translated: anything that Google does is going to have an impact on internet search. And, Froogle is certainly no exception.

Overture - No major changes.

Yahoo buys Inktomi - During Yahoo's history they have outsourced their search engine functions to a number of different companies such as AltaVista, Inktomi and most recently Google. This recent acquisition signals a major change that could affect the balance of power on the net. Yahoo's management appears determined to produce the best search results possible. It's clear that Yahoo intends to drop Google sometime – we just don't know when.

HotBot has morphed into a meta-search-engine featuring Google, FAST, Inktomi and Teoma. The default engine on your first visit is Inktomi but HotBot remembers if you choose another engine and saves that preference.

AltaVista's Jonathan Glick reported at the Dallas Search Engine Strategies conference that AV is working on implementing different algorithms based upon which keywords are being used.

Fast Warns SEO Tool Users - At the December Search Engine Strategies conference in Dallas, Tim Mayer from Fast reported that alltheweb.com would soon be blocking IP addresses that abused their search services using robotic tools such as WebPosition Gold.

ODP - No important changes.

LookSmart - No important changes.
SurfSafely.com - Safe Online Content for You and Your Kids!
The SurfSafely.com web directory represents a commitment to, and support of voluntary content labeling and is only part of "New England Webmasters" family oriented services.

The purpose of the SURFSAFELY.COM directory is to create a market driven incentive for web developers to voluntarily rate their own content using PICS labels (Platform for Internet Content Selection), and families a single point of reference to find labeled sites allowing them to use PICS filters effectively.

Enter SURFSAFELY.COM Because our directory requires all sites listed here to be labeled according to content, families using SURFSAFELY.COM to locate sites are able to use the PICS filters as they were originally intended without the headaches. Without a centralized location to find labeled sites, PICS filters and the labeling of web content becomes a cute novelty. With it, it becomes a powerful tool. Now that enough people are using our directory, for web developers the issue is simple economics. Omit labeling and lose market share. Lost market share translates into lost revenue. People listen when money talks.

BTW, all of Rich's Web Design clients' sites have been submitted and/or are included on the SurfSafely.com directory!

W32/Yaha.k Virus Profile! from

--- Update December 30, 2002 --
Due to an increase in prevalence, the risk assessment of this threat was upgraded to Medium.
--- Update December 23, 2002 --
The risk assessment of this threat was updated to Low-Profiled due to media attention. This worm propagates via email using its own built-in SMTP engine. It terminates specific processes if they are running (AV/security related), and contains code to deliver a denial of service attack against a remote machine (the target is hard-coded within the worm).

Mass-mailing was not observed in testing, but strings within the virus suggest it is intended to arrive as an attachment to a message formatted as follows:


Subjects:
Are you a Soccer Fan ?
Are you beautiful
Are you the BEST
Check it out
Demo KOF 2002
Feel the fragrance of Love
Freak Out
Free Demo Game
Free rAVs Screensavers
Free Screenavers of Love
More HERE!

Attachment:
Possible filenames include:Beautifull.scr
Body_Building.scr
Britney_Sample.scr
Codeproject.scr
Cupid.scr
FixElkern.com
FixKlez.com
FreakOut.exe
Free_Love_Screensavers.scr
Hacker.scr
More HERE!

Message Body:
Strings within the virus suggest multiple possible message body contents (body contents and attachment filename chosen together):

Are you one of those unfortunate human beings who are desperately looking for friends.. but still not getting true friends with whom you can share your everything..
Hi, So you think you are in love..
hi, check the attached love screensaver
More HERE!



As always, get GOOD virus protection! DO NOT OPEN attached files, unless you KNOW what they are ... EVEN if they are just from a friend!
336-408-9075
Rich@RichsWebDesign.com