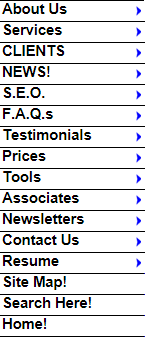 <!table width="125" border="0" cellspacing="0" cellpadding="1" height="20" background="seoforumback.gif"> <!tr> <!td> <!div align="center"> <!RWD SEO Forum> <!/div> <!/td> <!/tr> <!/table>



<!a href="http://www.richswebdesign.com/wordpress_blog/" target="_blank"><!img src="images/wordpressblog.gif" border="0" alt="WordPress Blog" align="middle" width="29" height="28"><!B><!font color="#ffffff"><!Blog>
Sign-Up for the
Monthly Newsletter!


Logo Designs by
<!a href="http://www.logomatrix.com/" target="_blank">

<!/a>





Great E-Mail Marketing Tool!
At Rich's Web Design, we protect your privacy!
Any and all information provided to Rich Blakemore and Rich's Web Design from a client, potential client, or former client, excluding the actual coding for the site, remains the property of said client and shall be returned to said client upon written request to Rich Blakemore. This may include pictures, pamphlets, logos, forms and documents not created by Rich's Web Design, but provided to Rich's Web Design for the creation of the web site. Said information will not be given, sold, or lent to any third party for any reason, unless specifically requested by said client. This is to protect any client and Rich's Web Design from unknowingly divulging any private and sensitive information to a third party.

All identifiable information provided by the "contact us" page (name, email, home address, etc.) will not be disclosed to anyone unless the provider of such information, specifically requests Rich's Web Design to do so.
Newsletter Privacy Policy
Rich's Web Design maintains a strict "no-spam" policy. Your information, including your e-mail address will not be given to any third party for any reason. If you are added to the newsletter, you will receive the e-mail newsletter you have requested as a "Client or Friend of Rich's Web Design". You can unsubscribe to it at any time.
Consent
By using Rich's Web Design, you consent to the collection and use of information by Rich's Web Design as specified above. If we decide to change our privacy policy, we will post those changes on this page so that you are always aware of what information we collect, how we use it, and under what circumstances we disclose it.
How to Reach Us
If you ever feel uncertain about whether this site is following the privacy policy we have described here, please notify us by e-mail to rich@RichsWebDesign.com. We will make every reasonable effort to find and correct the problem promptly.