Google has a variety of logos commemorating holidays and events for your amusement. Please, don't feed the kangaroo. To keep up w/ logos in the future go here! Yes, all of these logos were created by the Google staff. I do not take any credit for them nor will I use them for my benefit.
---
1999 - 2000 - 2001 - 2002 - 2003 - 2004 - 2005
2001
Season's Greetings with a Google Doodle:


Google Celebrated the Nobel Prize Centennial Award Ceremony on December 10.

Happy Thanksgiving in the United States (November 22)

Google celebrated Monet's birthday on November 14.

Happy Halloween!

On August 15th, Google celebrated the Korean Liberation Day.

On August 1st, Google celebrated the Swiss National Day.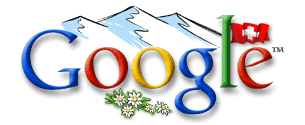 Vive la France - Bastille Day (July 14)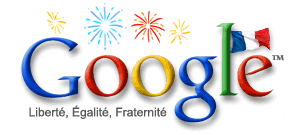 Happy Independence Day in the United States (July 4)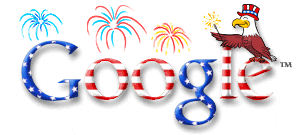 Happy Canada Day (July 1)

Happy Father's Day! (June 17)

We once again honored our Moms on May 13.

On April 22, Google celebrated Earth Day.

Did you find the "hidden" Easter eggs on the results page?

On March 17th, Google green was the appropriate attire.

March 9th was the start of the Indian festival of color - Holi.

On February 14, hearts decorated our homepage with this logo and the return of Ken Perlin's applet:
The "Year of the Snake" began on January 24th (Lunar New Year):

Note: It is Chinese tradition to invert the "luck" character on New Years to signify the arrival of good fortune.
Google rang in 2001 with:


336-408-9075
Rich@RichsWebDesign.com