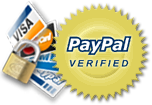 Processing of your credit card by Rich's Web Design will be used only for payments of services rendered or for annual renewals of your web site. Please see your latest invoice for this amount. CAREFULLY select the amount due from one of the pull-down menus, then select the 

 button underneath your selection. You will then be directed to the PayPal area where you can enter your information and credit card number.
Shipping is not necessary due to the fact that said process is soley used to make payments from Rich's Web Design invoices. The services have either been completed or are payments for annual renewals of your web site.
---
* If your payment / invoice is GREATER than $700, simply make 2 separate transactions ($700 + the additional amount)