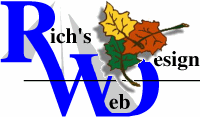 RWD – November Newsletter
If Your Website Isn't Accessible
As you may know, the Americans with Disabilities Act became law in 1990. At the time, it was directed only at eliminating physical barriers for people with disabilities. Recently, however, it has been interpreted to apply to websites. It was back in 2010 when the United States Department of Justice announced it was going to develop rules that would apply accessibility standards to websites. However, the DOJ never actually got around to doing that.
Instead, in December 2017, they formally announced that they weren't going to issue any rules. They reasoned that, since there was already a growing body of civil case law about website accessibility, they felt that would suffice.
This past January a mom-and-pop hardware store in San Antonio got a letter from a law firm in New York notifying them of a lawsuit because their website was not accessible to people with disabilities. The lawyer had a client, he said, who was blind and was also from New York, who had tried to order a hammer on their website and was unable to do so. They smelled a setup, but what could she do? She elected to pay the lawyer the $20,000 he demanded, figuring it was cheaper than going to court.
A key point to understand is that the Department of Justice made a statement in September 2018 that made it clear that websites do not need to be strictly compliant with WCAG standards. If they are reasonably compliant, they meet the standards imposed by the Americans With Disabilities Act.

Making Website Accessibility Affordable
There are a lot of theories floating around about what, exactly, is required to make a website accessible. Some companies are offering plug-ins they say will do the trick, each costing a few hundred dollars a year. And then there are accessibility "experts" quoting four- and five-figure fees to do the job — with maintenance costing hundreds of dollars per month.
What About the Accessibility Widgets?
You may have heard there are some widgets that can be installed to help make a site accessible. These widgets allow the visitor to adjust the contrast, text size, and other website elements. Some of them will convert the website into a bare bones text-only website when the user clicks them. These tools address some of the major accessibility issues, but not all.
The top WordPress Accessibility Plugins – WP Accessibility, WP Accessibility Helper, One Click Accessibility, AccessiBe (paid)
Rich's Web Design Accessibility Statement
RWD Client Examples