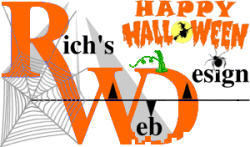 RWD – October Newsletter
Site Statistics – What's Most Important?
In short, it depends on your business, it depends on your site goals! Is your business related to how many people walk into your store? Probably not; It most likely depends on SALES! Is your goal to have as many people CALL or CONTACT your business? Maybe … If so then the more Contact Us forms or phone calls through your site is an important stat. Is there another metric that determines your business success? Let's dig in a little deeper.
Higher Smarter Revenue!
Most statistics can be obtained via Google Analytics, which is installed in all RWD clients' sites and is reported in your MONTHLY REPORTS! Let's review a few metrics and see if these clear up a few questions you may have:
1. Monthly Visits – These are the number of monthly visitors / sessions where visitors viewed any part of your web site.
2. Visibility (Search Engine Rankings) – The percentage score given to a website depends on its rank across a set of your keywords in the major search engines. This metric can be important and is HIGHLY dependent on your competition.
3. Conversions – These are your Contact Us forms, Newsletter sign-ups, e-commerce purchases that have been set-up as your site GOALS. If your site has action goals then tracking CONVERSIONS can be one of the most important metrics.
OTHER Site Metrics
(May or may not be significant for your business goals)
4. Pages per visit – This is the average number of pages that your visitors have seen in an average visit to your site.
5. Session Duration – The average amount of time your visitors spend on your site.
6. Bounce Rate – A website's bounce rate is the percentage of people who leave the site from the same page they entered the site, without clicking through to any other pages.
GOOGLE ADS
(If you use PPC [Pay-Per-Click] advertising) then these metrics are important
7. PPC Visits – How many people have clicked your ads and visited your site.
8. PPC Keywords – Which keywords are people searching for and then clicking your ads.
9. PPC Conversions – How many PPC visitors have converted using your Contact Us form or simply called your business.
Let me know if I can help you with set-up your site GOALS!