Rich's Web Design – June Newsletter

–  Google  Search Console Reports –

– RWD, Business of the Month –

– AdWords Making Changes –
Google Search Console Reports
Most of your monthly reports also include a PDF report from Google Search Console ( formerly called Google Webmaster Tools ) called 'Analytics Queries'.
Google used to provide an accurate list of exactly which words / phrases people search for and find your web site, but Google no longer provides this. If you have seen in your Google Analytics reports 'Not Set' or 'Not Provided', this is what Google has stopped reporting.
Instead, the Search Queries page provides information about Google Web Search queries that have returned pages from your site. In addition, you can also see information about the pages on your site that were seen most often in search results (top pages). This is a report that is produced not from your actual web stats, but from Google Webmaster Tools about searches that are related to the terms Google believes are related to our site. The report includes terms such as 'query list', 'impressions', 'clicks', 'CTR', 'average position', etc.

| | | |
| --- | --- | --- |
| --- | | --- |
Each month the Chamber Business Affairs Committee selects a business to be recognized in the Kernersville News. This recognition is sponsored by the Kernersville News, and includes a plaque, photo opportunity and story about the business.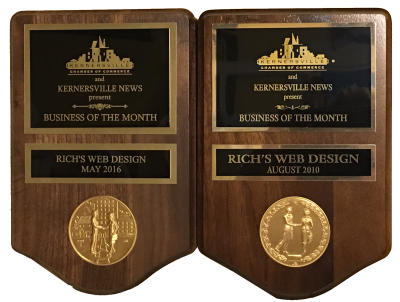 AdWords Making Changes Geared towards Mobile.
Optimized for screen sizes of the most popular smartphones, new  expanded text ads in AdWords provide more ad space so you can showcase more information about your products and services before the click. These upgrades help your ads work harder across screens, especially for the on-the-go mobile consumer that wants to know exactly what you offer before tapping into your website.
RECENT / NEW CLIENTS