Monitor Your Reviews in Google My Business (GMB)
Do a search for [your location] + [your business] on Google and look in the right column. This is your 'Google My Business' information, including a link to see your REVIEWS! Go ahead and read your own reviews.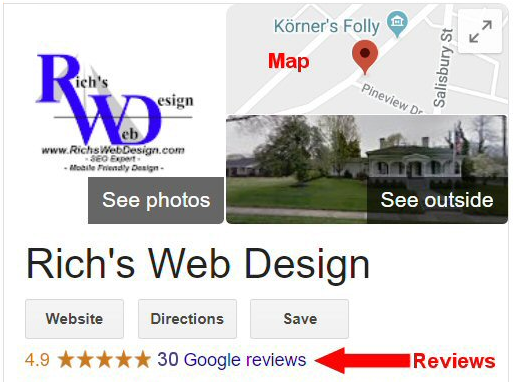 It is VERY IMPORTANT to respond to these reviews from your customers in a timely and appropriate / professional manner.
RWD has access to most all of your GMB (Google My Business) accounts and I usually receive an email whenever a new review appears.
As a part of my service, I can easily respond to these reviews on your behalf … if you desire … in a timely manner. If so, simply send me an email and give me your permission.
I provide this service for a few clients already; I just wanted to open this up for ALL! I usually respond w/ 'Thank you for the kind words …' or 'Thank you for your nice review … Let us know if we can be of further service…'
NEVER respond to these reviews in an unprofessional manner as EVERYONE can read these responses … not just this angry customer!
If you do receive an poor review, respond nicely and just think to yourself … 'Maybe I need to try to obtain more positive reviews. These are important.'
___________________

In the past, I have written about GMB Reviews and their importance for your business. Notice the emphasis on REVIEWS, stars, 'Write a Review', 'View all Google Reviews'? Does this tell you something about how Google views the importance of REVIEWS? Please read my many articles on Google Reviews for more info! Feb 2021 – April 2019 – June 2015 – May 2015 – Nov 2014 – Dec 2013