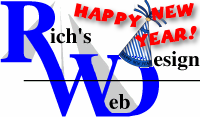 Rich's Web Design – January 2021 Newsletter
– How is SEO Viewed in 2021-
This month we try to visualize SEO, the various aspects of SEO and how they should work together to make your site perform optimally. The first attempt is to visualize SEO as a chain. Each part of the chain is connected to its other parts and if one part fails, then it affects other parts. Do you have a weak link?

KW RESEARCH
– Start by brainstorming and come up with 12-15 phrases that describe your business and that you feel people will search for. KW tools are then used, keyword phrases are selected placed onsite. Refinement in selecting the very best TARGETED SEARCH PHRASES!
ONSITE SEO – Correct usage of the title tag is as important as ever. More and more today, the major search engines give a tremendous weighting factor to the title tag. On top of informing your site visitors what the page is all about, it also helps the search engines get a better understanding of the topic of that page and what it should expect to see on it. Other parts inlcude META Descriptions, Heading tags, Alt tags, and Internal linking.
TECHNICAL SEO – This part of SEO is often overlooked. It includes proper use of Google Search Console, XML Sitemaps so that Google can crawl your site effectively.
CONTENT – This aspect has been written about constantly. The more content … the fresher the content … the more appropriate and quality of content … the better your site will perform.
LINKS – The more links you have from other related web sites, the better your site will perform.
SEO as an Iceberg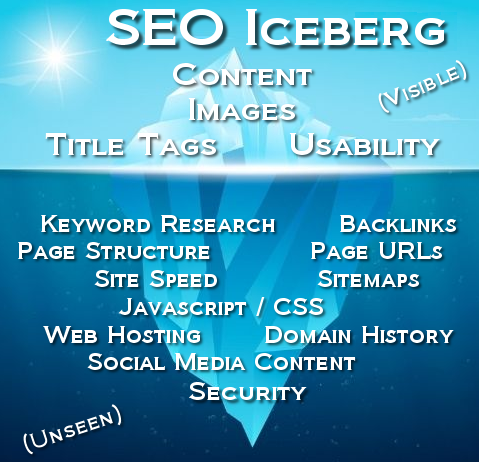 Icebergs are divided into the visible and the unseen; SEO can also be viewed in a similar fashion. Above the waterline, visitors can easily see your – Content, Images, Title Tags, Usability (how the site functions).
Below the waterline, these items can generally not be seen – Keyword Research, Backlinks, Page Structure, Page URLs, Site Speed, Javascript / CSS, Web Hosting, Domain History, Sitemaps, Social Media Content.