"Spring Folly Web Site Wins Award" – Kernersville News – 2/13/07
"School Made Easier! with Web Site" – Kernersville News – 7/22/03
Webmaster – Clear Channel Broadcasting – Winston-Salem Journal – 1/21/03
Kernersville Elementary School, Winner of the Golden Web Award – 2002-03
NCDPI "Noteworthy Web Site" – KES – December 1999
"Rich's Web Design" – Triad Review – 4/15/99
"KES Web Site Wins Award for Excellence" – Kernersville News – 12/9/99



"Kernersville Elementary School is on the World Wide Web" – Kernersville News – 4/22/99
"Alderman is pleased with progress of town website" – Kernersville News – 8/14/99
"Town web site goes up tomorrow" – Kernersville News – 8/24/99
"Town of Kernersville web site is on-line" – Kernersville News – 8/26/99
"Local Web Designer Open for Business" – Kernersville News – 1/15/98

Kernersville News – February 13, 2007
"Spring Folly Web Site Wins Award"
Kernersville News – July 22, 2003
"School Made Easier! with Web Site"
Computers are the wave of the future. The new age of teaching has arrived, and the question is, are Kernersville schools ready for this new form of teaching? The administration and staff of Kernersville Elementary School have made the first step into the future this year by placing teachers supply lists online for parents and students to acquire before school open house.
"I do think that having the teacher supply lists online will be very helpful for both parents and teachers", says Angela Hester, Vice President of the school's PTA.
…
The teacher's supply lists is not the only helpful information that can be found on the school's website. With the help of Rich Blakemore of Rich's Web Design, Kernersville Elementary School has been living up to their goal, which is to become more technologically advanced.
"Kernersville is a technology school and so one of the things we were trying to do is to utilize the Internet to keep parents informed about what is going on at their child's school"
Although most schools now have their own web site, Kernersville Elementary School's web site is more than just a brief history or fact sheet. It is a tool for both parents and children to utilize as a learning facility about the school, staff and academic projects.
…
The site is an interactive site with a link to every question that parents may have. "The school overall puts a lot of emphasis on using the Internet.", says Hester.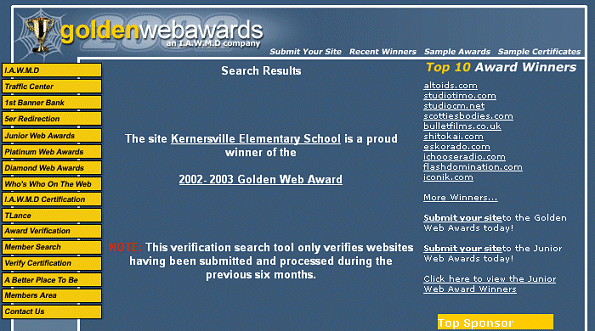 Winston-Salem Journal – January 21, 2000
Blakemore signs as Webmaster for 3 radio Stations
Rich Blakemore, creator of Rich's Web Design in Kernersville, will become the full-time webmaster for Clear Channel Broadcasting, Inc. in Winston-Salem.
His duties will consist of upgrading and maintaining the web sites for radio stations WSJS, WTQR, and WXRA 945. He will also be responsible for bringing in new businesses wanting to create their own web sites.
"WSJS is the No.1 rated talk-radio station in North Carolina, and WTQR is the No.1 rated country station. It is an exciting opportunity and one that I am looking forward to with great anticipation," Blakemore said.
Triad Review – April 15, 1999
Rich's Web Design
"Is it easy to get your business a site on the Internet? Do you want your business exposed to the fastest growing market in the world? Is it expensive to get your business a site on the World Wide Web? Should you be on the 'Net? www.RichsWebDesign.com can help you find the answers to all of your questions.
Rich's Web Design is geared towards small to medium size businesses, for which there are many in the Kernersville/Triad area…
Rich Blakemore, the owner has been in the computer industry for 8 years… a two year resident of Kernersville, has a six year old daughter, is a member of theKernersville Chamber of Commerce, and is an active member of
Main Street United Methodist Church …
Yes, we are local and respond QUICKLY! 336-408-9075 !"
Kernersville News – April 22, 1999
Kernersville Elementary on World-Wide Web
"Have you been wondering when our town, and our school system will arrive in the 21st century? KERNERSVILLE ELEMENTARY SCHOOL is there! We now have a professionally designed and maintained web site on the Internet: http://mts.admin.wsfcs.k12.nc.us/kvillees/index.html

Two weeks ago, Kernersville Elementary School's site went live. It is packed with information not only for parents, but also for students, faculty, and especially the community….
Designed by Rich Blakemore (www.RichsWebDesign.com) pro-bono, KES's site will be a great asset. When you a parent, have a question about an upcoming event and it is midnight, what have you done in the past? Waited until the next day, called the school, gotten a busy signal, bothered the secretaries, or even worse, bothered a teacher? NOT ANYMORE! Check the web site!
What happens when it starts to snow at midnight, and you are not sure about school the next day? Are you going to watch TV … all the way down to the WSFCS announcement? NO! Are you going to waste time and listen to the radio for 20-30 minutes? NO! Check the web site! …"
Kernersville News – August 14, 1999
"Alderman pleased with progress of town website"
"Alderman Rene' Plante' says site will serve as information source for residents… We're rounding the final corner and the finish line is in sight.
Alderman Rene' Plante' has been a strong proponent of both the town's web site and Blakemore….Plante' says that Blakemore has picked up the project nicely. "He's very professional, a hard worker," Plante' said. "I've been real pleased with how well it's gone."
Kernersville News – August 24, 1999
"Town web site goes up tomorrow"
"After much work and organization, The Town of Kernersville website is going 'on line' for all to view.
Developed by Rich's Web Design, the official Kernersville government site provides access to town information, local officials, state government, and federal officials…The site consists of 30-plus pages of information … A special thanks goes to all of the department staff and Dale Martin along with Rich Blakemore for producing such an informative site."
Kernersville News – August 26, 1999
"Town of Kernersville web site is on-line"
"Want to contact your favorite Alderman? Maybe you need to know how to apply for a building permit. Or you just want to know more about "The Heart of the Triad?"
All of these things, and more, can be done through the new Town of Kernersville Government Website … Welcome to Kernersville … Elected Officials … Administration … Human Resources … Police & Fire … Recreation … Kernersville Historic Preservation Society.
The site was created by Rich Blakemore of Rich's Web Design."
Kernersville News – December 9, 1999
"Kernersville Elementary Web Site Wins Award for Excellence"
Kernersville Elementary School has received an award for educational excellence for its Internet site.
Principal David Fitzpatrick received word last week that the site was featured in the Noteworthy Web Sites section of "Focus on Success! North Carolina's Best," a web site sponsored by the N.C. Department of Public Instruction to highlight excellence in education.
The site features five areas in which students and educators in North Carolina excel. They are: Student Highlights, Virtual Art Museum, Outstanding Educators, State and National Award and Grant Winners, Noteworthy Web Sites and K-l2: Higher Education Collaborations and Initiatives.
"Recipients of this honor demonstrate personal and professional accomplishment and represent the state: of North Carolina by showing the products of excellence in education to a worldwide audience," said Ann Thompson of the state's Communication and Information Services Division of the N.C. Department of Public Instruction.
"As a recipient of this honor, Kernersville Elementary School demonstrates professional accomplishment and represents the state of North Carolina by showing the products of excellence in education to a worldwide audience," Thompson said.
"What a great way for our school to be recognized for its accomplishments," said Principal David Fitzpatrick. "We know that we are doing wonderful things at our school, and I'm thrilled to share our success stories with others."
Fitzpatrick also congratulated Rich Blakemore of Rich's Web Design, who helped develop the site for the school.
Kernersville News – January 15, 1998
"Local Web Designer Open for Business"
If you want a professional web site for your business, you can now turn to Rich's Web Design. Rich Blakemore recently started his own business because, "Kernersville has many businesses, and very few of them have a quality web site. There are plenty of web sites that are homemade or of poor quality."
Rich's Web Design already has a few clients including a local chiropractor, a medical products business, a High Point furniture business, a local engineer and others. He also can take an existing site and redesign it. Information regarding Rich's Web Design services, procedures, and prices, can be found at www.RichsWebDesign.com . Rich hopes to gain many new clients in the Kernersville area as well as others in the Triad.