"
The bitterness of poor quality remains long after the sweetness of the low price is forgotten!
"
As I discuss with my existing and potential clients, the idea of "listing your prices" on your web site can be a tricky decision. Some sites are better without listing prices, and some absolutely have to list prices for ordering purposes, etc.. Some designers list their prices and some do not. My opinion is that I have nothing to hide from a potential client, existing clients, as well as other designers. I have no problem comparing prices and services, as long as people understand, it is always best to compare "apples with apples!" The services that I provide my clients are honest, clear, efficient and of the highest professionalism possible.
To truly compare "apples to apples", ask the competition the following:
1. Does your quote include "Search Engine Optimization"? If so, what do you do? – RWD aggressively maintains your site for optimum performance.
2. Will you submit my site to Google / Yahoo and other search engines? Which ones? – This is an old technique; Google and all SE spiders will automatically find your new site, if linked to from other existing sites.
3. Does your bid include maintenance for 1 FULL year? – Yes.
4. How many other clients do you have?
5. How will you design MY site differently than your others?
6. What design tools do you use? Google KW Planner, LSI Graph, Google Analytics, AWRanking, Yoast, UserTesting, Screaming Frog, Xenu, etc.
7. Can I see the entire process as it is evolving? – Yes, a temporary / dev URL will be created.
8. Do you have any references or testimonials?
9. Have you ever lost a client? Why? – Yes, cost.
10. Can your design firm instantly provide you with 30 some reciprocal links? (Read my article on the importance of links to Google!)
11. Are you a full-time designer, or do you do this on-the-side? – Full-time!
12. Do you keep up with the "Latest News" on Rich's Web Design?
13 Do you offer PROACTIVE WORDPRESS MAINTENANCE, to protect from potential WP hackers, including regular backups? – Yes
Yes, there are designers that charge $500 for a complete site, or what you may THINK is a complete site, and there are other companies that do not even consider a site under $10,000. The prices listed below are fair, reasonable and are consistent with the industry of "professional designers."
$995 – Main page design.
$195 – Each additional page*.
$18 per page per month maintenance ON EXISTING PAGES*. This includes hosting.
($750 – $1000) – Responsive / Mobile Designed version of above web site
SEO (Search Engine Optimization). Web site will be adjusted based on keyword and keyword phrases provided by owner, or suggested by Rich's Web Design for the express purpose of obtaining the best possible rankings for said keywords & keyword phrases. Pricing depends on hours needed for keyword/ key phrase research.
$225 per year – Monthly Search Engine Analysis / Rankings Reports (see Monthly Reports for details)


OPTIONAL
Starts @ $700 – E-commerce / Shopping cart design.
$250-375 – Set-up of Social Media site (Facebook, Google+, LinkedIn, YouTube, Yelp, etc.)
$525 – ADA Compliance – Required for government or commercial web sites that are 15+ employees.
Domain Name registration is also available!
$250-375 – Setting up of Monthly / Quarterly responsive newsletter template.
$125/hour – Upgrading of existing sites will be based on a per hourly estimate/charge of
$250 – Training of staff for future updates, including documentation.
My work is clean, professional, and I will work until you are satisfied! Compare this to other design firms, and you will be shocked! You will need to be able to answer these questions and provide me information such as:
1. What you would like your site to accomplish for your business?
2. Will your site necessitate purchases, credit-card purchases, etc.?
3. Your Company's Logo, Business Card, Pamphlets, etc.
4. An outline of how you would like the site to be organized
…(i.e. subjects, number of pages)
5. A general idea of how you would like it…(i.e.. conservative, wild, fast-loading, favorite color(s),pictures,etc.)
6. Other related sites that you like or dislike.


Rich@RichsWebDesign.com
* = A page is defined as "… What one can see as they scroll up and down."
Your website represents your company on the internet. And you never get a second chance to make that first impression. We understand your business goals and thus design your site according to your requirements.
Summary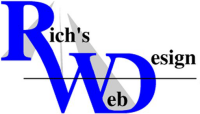 Service Type
Provider Name
Rich's Web Design
,
North Carolina
-
27284-2739
,
Telephone No.3364089075
Area
Description
How Much Does a Web Site Cost? How Much Does SEO Cost? Each project is unique with differing requirements, therefore each quote is also unique.