2017
March – Chrome SSL | Overall Security | TEDx WakeForestU
February – Google / Chrome & SSL | How to Rank High | What is TTFB? |
January – SEO Mistake in 2017 | Effective Email Newsletters | Google's Mobile First Index
__________________________
2016
December – 'Inbound Links' – What Are They?  How to Obtain Them.
November – WordPress Maintenance (Proactive Security, Backups, Malware Prevention
October – Selecting Targeted Keywords / Phrases for SEO, What are 'LSI keywords'?, The Importance of FAQ's
September – Google Analytics Reports – Getting Yours? – Understand Them?
July – Do You Need a Redesign? Questions to ask yourself and your marketing person.
June – Google Search Console Reports, Chamber BOTM, Google AdWords Changes
May – Local SEO – The Growth Of Direct Answers on SERPs (Search Engine Results Pages) – What Google Looks for in their Evaluation of Good Content
April – Google's New Webmaster Guidelines – 6 Signs Your Company Needs a Website Design – Google's Latest Tool Named 'Resizer'
March – Monthly Reports Explained – (Rankings & Google Analytics) – SERP's Top 4 Places Now Ads
February – TEDx Tickets – FREE! – What is a Conversion? – PANTONE Color(s) of the Year 2016
__________________________
2015
November – Strategy for Creating Better Content – Is Traditional SEO Dead?  Far From It!
September – How do I make my site appear first in Google Search results? – FREE Web Tools – Adding FRESH Content
August – Inbound Links are STILL Important
July – July Rankings Reports – Periodic Table of SEO – Letter to All Clients
June – Significant Rankings Improvements! – Further Importance of Reviews
May – 100% of RWD Clients are Mobile-Friendly – The Importance of Reviews – Mobile Rankings Reports
__________________________
Older Articles
99% of RWD Clients are Mobile Friendly
What is the Purpose of Your Web Site?
Web Reviews – What Are these? How Do We Get Them?
Editorial Calendar, Why Have One?
Why Do I Need Fresh Content? 3 Ways
What is RWD? – Why Should We Use It? – Costly?
Is It Time for a Redesign? What Things Do We Need to Consider?
'Not Provided' Keywords in Google Analytics – UPDATED!
What is Google's Webmaster Tools?
Reviews, Have You Created Yours?
The Importance of Google Places, Yahoo Local, Bing Local & Yelp
Top 10 Reasons a Website Fails To Perform
"What Should You Look For In An SEO Firm?"
Summary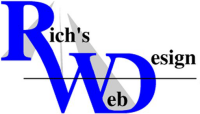 Article Name
Description
Rich's Web Design Newsletter Archive - Monthly Search Engine / Web News
Author
Publisher Name
Publisher Logo