Rich's Web Design – July Newsletter

– Monthly Reports 

Terms Explained (Reminder) –

– Google Loves Reviews! –

As a client of RWD, you receive a
Monthly Reports
during the 1st week of each month that shows the previous month performance stats.  It is a month-to-month running chart of the below important metric
1. Monthly Visits – These are the number of monthly visitors / sessions where visitors viewed any part of your web site.
2. Conversions – These are your Contact Us forms, Newsletter sign-ups, e-commerce purchases that have been set-up as your site GOALS.
3. Bounce Rate – A website's bounce rate is the percentage of people who leave the site from the same page they entered the site, without clicking through to any other pages. This can be a good indicator of how good a website's navigation is, as well as an indicator of the quality of the site's content (a very high bounce rate doesn't bode well for either of those things). If your site is small, simply shows your basic contact info, and a visitor comes to your site for your phone number and leaves, then having a high bounce rate is not significant.
4. Visibility – Determined by your rankings in the SERP (Search Engine Results Pages). The percentage score given to a website depends on its rank across a set of keywords in a search engine. In theory, if all of your phrases are in the 1st position on ALL search engines, you would have a 100% visibility score; If none of your phrases rank in the Top-30 positions, then you would have a 0% visibility. This score can be viewed best over a 3-4 month period and is HIGHLY dependent on your competition.
5. Ranking +/- – This compares how many of your search phrases Moved Up vs. Moved Down in the Rankings Reports.
6. Pages per visit – This is the average number of pages that your visitors have seen in an average visit to your site.
7. Session Duration – The average amount of time your visitors spend on your site.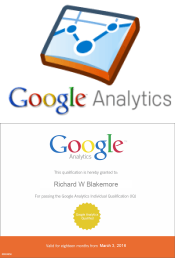 Also included are insights and / or recommendations which highlight your site performance or weaknesses we need to tweak.  It may mention that your site needs more reviews, fresh content, more inbound links, more postings on your social media channels (Facebook, LinkedIn, YouTube, twitter, etc.) or other significant items.
Please send me your feedback & questions about these monthly reports.
Google Loves Reviews!
I write about this subject every 8-10 months, but as a reminder – Google Loves Reviews!
Most businesses have a love/hate relationship with online reviews and the sites that publish them. They LOVE it when they garner praise and plenty of stars and HATE it when the reviews show low ratings and voice complaints about products or service. They LOVE it when bad reviews are filtered out by Google and Yelp algorithms, but scream conspiracy when the good ones are not publicly visible. Love 'em or hate 'em, online reviews are here to stay and they can make or break your business in the same way word-of-mouth recommendations or condemnations can offline.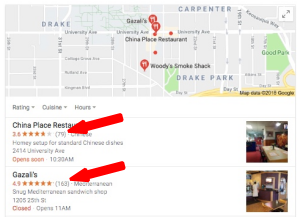 It's no longer possible for businesses to stick their heads in the sand and ignore them. Every business needs to create and maintain a system of monitoring and managing its online reputation.Once a searcher clicks through to the company's Google My Business page listing, its review summary is featured front and center with a large rating number – again in orange – and snippets taken from reviews. In some instances you can see that the reviews are organized by the authority of the reviewer, which results in reviews from local guides being featured first like in the example below.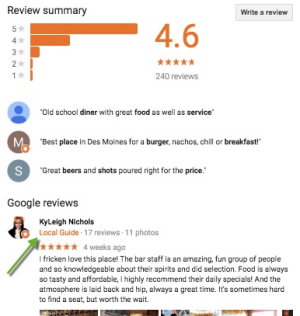 Volume of Reviews: Your goal should be to get at least 10 reviews on Google. However, it's important to know that different types of businesses tend to get more reviews than others and Google realizes that. For example, a restaurant or hotel can expect to get quite a few reviews on a regular basis, but an addiction counselor or DUI attorney should NOT expect his customers to be quite so enthusiastic about publicly associating themselves with those particular services.
What happens when you receive a bad review? It's an opportunity to reach out and turn someone into a positive customer. Apologize, make a correction / offer and be sincere! If all else fails, make this an incentive to go get 10 more POSITIVE reviews to out-weigh this bad one.
Yes, Google has specific rules about Reviews and they can be read here – https://support.google.com/business/answer/3474122?hl=en In general … Reviews are only valuable when they are honest and unbiased. (For example, business owners shouldn't offer incentives to customers in exchange for reviews.). These guidelines are not an empty threat. There are countless examples of businesses that have lost all of their Google reviews after they were reported by competitors for and found guilty of things like creating review contests on social media with prizes or giving open incentives to customers who left reviews.
Yes, there are other sources of reviews – Yelp, Yahoo, etc. but like search engines, NOTHING come close to Google Reviews!