Measuring your R.O.I. (Return on Investment) can be a simple and yet complex calculation. One can simply compare the cost of investing in a new or redesigned web site to the improved business you receive from the new site. In some businesses, it can be that simple, in others it can be much more complex. What happens if you do NOT sell widgets from your site? If your site is truly information only, you probably will not see direct $$ from your site.
How does

make its $$? How does

make its $$? How does

makes its $$? How does

make $$ from THIS web site. Each makes $$ in a completely different way. Some sell advertising, some sell a service, others provide a service which obtains $$ rather indirectly.
You, as the business owner, you have to have an understanding of many items:
Your market
Your typical client or potential client
What attracts people to your business
Reoccurring business and how it is developed … etc.
Rich's Web Design can help your business, by asking a very important question:
"What would you like your new web site to do for your business?"
This is a very important question, and naturally is the very first question I ask a potential client of mine. If a business owner can answer this question clearly, accurately and with conviction, I will probably be able to help him or her out with great success.

Now let's consider a professional web site developer to an amateur. Sure an amateur can build a site for you for $500-$750. It might look good too. But you need to ask some questions: Is this site built properly so that the search engines can find your new site? Does your site work only with I.E.? What about the other browsers that people use? Will your site look professional and will it work? What about different screen resolutions? Will it look the way you want it to? … Probably NOT!
"
The long-lasting benefits of quality will far outweigh the initial joy of a low price!
"
Now let's consider a high priced web site built by a firm or team of designers. Straight-up, most will not even consider a business site under $10,000. Are you ready for this? Sure they might have a qualified team, but who do you call? When do they return calls? Do you get personalized service? Maybe … maybe not. If your investment is "at least" $10,000, you better get some great bang for your buck!

At Rich's Web Design, we believe that a middle ground might just be the best place to stand. Our work is clean, professional, and we will work until you are satisfied! It will rank high in the search engines … it will look professional in all browsers, all screen resolutions, and all platforms … It will WORK … and best of all … you will get personalized service!
If you want a great R.O.I., call Rich's Web Design ASAP!

Summary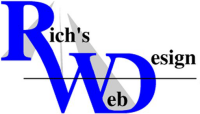 Service Type
Provider Name
Area
Description
ROI - Return on Investment -