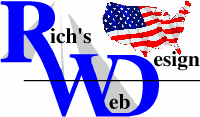 Rich's Web Design – July Newsletter
About every year, Search Engine Land updates their
'SEO Periodic Table'
, which reminds most of us the Periodic Table of Elements from our science classes. Every heading and individual section is talked about every month in this RWD Newsletter. From Quality Content, Keywords, Site Speed, Titles, Alt Tags, Links, User Experience, Google My Business, Reviews, etc… Search Engine Land has created this nice chart!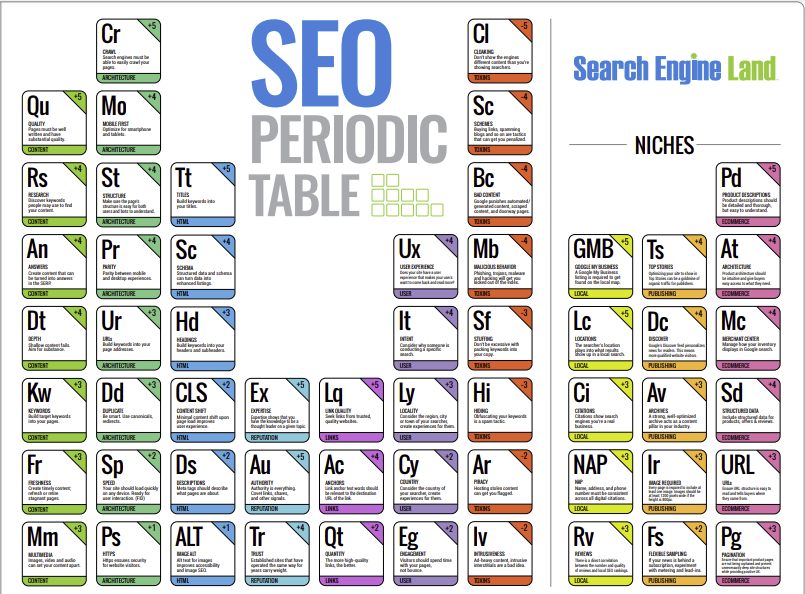 CONTENT – ( Quality, Research, Multimedia, FAQs / Answers, Keywords, Depth, Freshness ) In the Content element grouping, we explore the facets of high-quality, in-depth content. It starts with tried-and-true methods like performing keyword Research (Rs) to identify what users are looking for and then incorporating those Keywords (Kw) into your content. More important, however, is Quality (Qu) – which indicates how critical it is to have well-written pages that provide value to readers. Additionally, search engines reward Freshness (Fr), ranking sites higher if they're frequently updated.


ARCHITECTURE – ( Crawl, URLs, Mobile First, Duplicate, Structure, Speed, Parity, HTTPS ) How your site is built helps search engines know what your pages are about. It also helps ensure these platforms that users will be greeted with a fast-loading, malware-free landing page if they click through from a search engine results page (SERP). These elements include everything from the URLs you use and the page load speed to your security and crawlability.


HTML – ( Titles, Content Shift, Schema, Descriptions, Headings, Image Alt Tags ) These elements encompass the HTML tags you should use to send clues to search engines about your content and enable that content to render quickly. Are you describing movie showtimes? Do you have ratings and reviews on your e-commerce pages? What's the headline of the article you've published? In every case, there's a way to communicate this with HTML. Search engines look for familiar formatting elements like Titles (Tt) and Headings (Hd) to determine what your page's content is about, figuring that these cues to human readers will work just as well for them.


REPUTATION – ( Expertise, Authority, Trust ) You may have heard of EAT — Expertise, Authoritativeness and Trustworthiness — as a method that Google uses to gauge the value and relevance of sites. Of course, Google has never explicitly said EAT is a ranking factor, but it hasn't been silent on what it considers good content either.


LINKS – (Link Quality, Anchors, Quality) Of all of the elements, this group has been around the longest. When Google burst onto the scene with its then-revolutionary PageRank algorithm in 1998, the company made clear that links were a factor in how well a website would perform in search. The higher Link Quality (Lq) and more relevant the sites that link to your own are, the better it is for your SEO.


USER – ( User Experience, Intent, Country, Locality, Engagement ) User-specific factors will also affect how you rank in a particular Country (Cy) or Locality (Ly), and, while this is important, there's not much you can do about it other than to make sure your site speaks to users in the area where your audience resides. For example, use hreflang to indicate your site's language (eng-us for the U.S. and eng-gb for Britain, for example) and, if you're a local business targeting specific cities or neighborhoods, make sure you include your address as well as mentions of the towns or neighborhoods you serve.

NICHES – The new addition to our SEO Periodic Table this year is the Niches section. We know that some SEO factors are different or completely separate based on the niche they serve. Search engines have different signal.


LOCAL – ( Google My Business, Locations, Citations, Reviews, NAP ) With local SEO we know the key to showing in the local maps pack is to focus on Locations (Lc) and ensure your Citations (Ci) are set up and accurate. This includes NAP (NAP) consistency across platforms and citation sites and a complete GMB (GMB) profile — including choosing the right categories, keeping your listing updated, and engaging with your listing regularly. A key element of GMB listings is, of course, Reviews (REV). Not only is it critical to have a strategy to solicit reviews from your customers but also to ensure you're asking the right question.